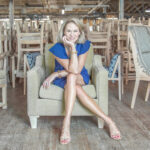 Libby's Easy, Elegant, Everyday Style
Thanks for checking out some of my interior projects; I do all sorts of different design styles, and it's so much fun to work all over the country and create homes that reflect my client's style!
Interior Design Portfolio
From simple room makeovers to complete home renovations, Libby Interiors can cover your interior decorating service and design needs and we think the process should be exciting and fun rather than stressful and scary!  We work in all different design styles, coastal, contemporary, traditional, transitional and everything in between, we will help you craft a design that's tailored just for you that announces your own personal style. We believe stylish, functional, comfortable home design manifests itself in all aspects of your life! Our Libby Interior's Team wants to help you live your life in the most beautiful way possible and our signature easy, elegant everyday style can help you do just that!!  
Which style would you like to see?
City Living can be luxurious and chic no matter the location or square footage of your home, we adore transforming spaces to announce a clients own personal style.  Whether it's a NYC apartment with a view or a Vancouver Canada townhouse, we can help infuse a chic and comfortable vibe that you will love to come home to! 
Cool Coastal Interior Design looks very different depending on what part of the country you're in. We work on projects all over so whether you're in Newport, Rhode Island or Vero Beach, Florida we can help you craft the coastal vibe that fits perfectly with your lifestyle!  
Want to Talk About Your Project?
Don't hesitate to contact me and let me know about your upcoming project.
One of the things we love the most is working in different design styles all over the country, no two jobs are ever the same and creating homes that are everything from contemporary to traditional to transitional, is exciting no matter where we are!  We listen first and then craft a design scheme that is uniquely yours and checks all the boxes you want for your ultimate home retreat! 
Commercial Design projects can be some of the most dynamic to work on; figuring out what clients needs are, the consumer they're appealing to, what's the brand messaging, and then creating a strong design scheme to help them achieve their goals. Whether it's a restaurant, golf shop, or clothing store, we love crafting a space that helps a company share their vision and mission with everyone that walks in the door!     
Learn About Libby Langdon
Learn more about Libby Langdon and her interior design experience.
Learn about Libby's Process
Looking for a seasoned designer with style and the ability to deliver?